Services & Procedures
Restorative Procedures:
Cosmetic Procedures:
TMJ Treatments
---
Diagnostic and Preventative Services:
Our advanced technology of digital x-rays reduces radiation to minimum, so that you should not be concerned of being exposed. We take digital x-rays and intraoral photos of your mouth, so Dr. Gorin can have a clear view of your current oral health. She'll review her findings with you on one of our chairside monitors. The Dental Intraoral camera allows Dr. Gorin to educate her patients with a close-up assessment of their dental concerns, as well as the procedures required to correct them by providing a dentist's eye view of the patient's teeth and mouth. For Dr. Gorin, the intraoral camera is a great way to show patients how their mouth and teeth change over time, while documenting teeth position and general wear and tear. The intraoral camera is completely optional for patients that would rather not get the close-up view.
Restorative Procedures: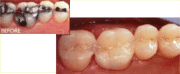 As a restorative and cosmetic dentist, Dr. Gorin uses all-white restorations to help patients achieve and maintain optimum oral health.

Inlays and Onlays are lab-made restorations that are placed on teeth when the cavity or lost tooth structure is too large to be restored by a simple filling. The process of making an inlay is very similar to a crown. After the tooth is prepared, it is cemented or bonded to the tooth. There are different materials that inlays are made of, including gold, porcelain, and composite resins. Porcelain and composite inlays and onlays are cosmetic alternatives to fillings and are very strong compared to regular white fillings. Gold inlays and onlays are also suitable alternatives, but their appearance makes them less popular.

Crowns, also known as caps, slide over teeth to hide misshaped, misaligned, discolored, or other imperfections in teeth. Crowns cover and protect cracked teeth, increase comfort, and offer extra support to those that are weak or damaged. If you have old crowns with black lines by the gums, metal-free crowns can be made that will vastly improve the overall appearance of your smile. To find out more about crowns, please contact our office today.
Missing or severely damaged teeth make eating, drinking, and functioning on a daily basis very difficult. Missing teeth can also be embarrassing in public or at work; this can cause a patient to hide their smile, affecting them both emotionally and psychologically. Dr. Lana Gorin understands how inconvenient a missing tooth can be for a patient. Our practice offers a number of tooth-replacement procedure options. Dental implants and dental bridges help patients return to a normal lifestyle, enhancing their confidence and restoring the overall function in their smile.

Dental implants are natural tooth-root forms which fuse to the jawbone becoming very similar to a natural tooth's root. This artificial root or implant is placed by a specialized oral surgeon or periodontics. Once the artificial root fully secures to the bone, Dr. Gorin will create a custom crown, to replace the missing tooth. This is crown, will be attached to the implant to provide the most natural-looking missing tooth replacement. Dental implants can be used to replace a single missing tooth, multiple missing teeth, or to function as support for the replacement of all missing teeth. Dental implants are a great solution to single missing tooth replacement when compared to other procedures because none of the surrounding teeth are touched.

Dr. Gorin believes there is no reason her patients should have to hide behind less-than-perfect teeth. The doctor and our highly-skilled dental team, including a laboratory technician, specialize in natural looking bridges to replace the missing tooth and often improve the appearance of the adjacent teeth. We strive to create the smile that will boost your confidence and self-esteem. Dental bridges allow Dr. Gorin to fill missing-tooth gaps with natural-looking, custom sculpted teeth to help correct speaking and chewing issues, and decrease excess strain experienced when biting down. As bridges are permanent tooth replacements, they offer an effective alternative to dental implant.
Cosmetic Procedures:
IDr. Gorin can usually complete cosmetic bonding in a single office visit. It is a conservative restorative treatment option that preserves and matches your natural teeth.

Smiles can have a profound effect on daily interactions and overall confidence, and Dr. Lana Gorin believes each of her patients deserves to make a great first impression. A recent study by the American Academy of Periodontology shows that Americans are seven times more likely to have a cosmetic dental enhancement than a face-lift. If you are ready to say yes to a new smile, cosmetic dentist Dr. Gorin may recommend the ultimate transformation, a complete smile makeover.

Opalescence Boost ® for in-office teeth whitening that offers a brighter, whiter smile after just one appointment and custom bleaching trays.
TMJ Treatments
Night guards, especially when associated with the correction of grinding to reduce migraine symptoms, can have a significant impact on our patient's quality of life. To provide the necessary protection for your mouth, Dr. Lana Gorin also offers mouth guards for any need, as it relates to any of the following concerns: whether it is sports or stress related.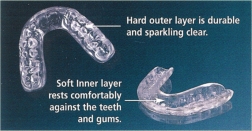 Prevents the destruction of teeth from unconscious grinding at night, which can cause tooth sensitivity and hot and cold
Prevent the wear and tear of a patient's teeth, which can cause a person to appear older than they actually are
Protect dental restorations to help them last longer
Protect teeth during increased periods of stress, when patients tend to grind their teeth more often
Alleviate pain in a patient's jaw joint and muscles, or pain commonly associated with migraine headaches